Yessir, that is me!
I am now the proud owner of a BRAND NEW (not even new-to-me) LEATHER chair for the living room!!!
HEEHEEHEEHEEHEEHEE
I had a chair that I loved before Cairo.  It was called a "chair-and-a-half" and was big enough for me to snooze comfortably in.  I also had the hassock that went with it, so there was ample room to spread out.  AFAIK, our friends who bought it are still getting great, comfy use out of it.  But so far, I had not found a suitable (in comfort) replacement.
Since arriving Stateside, gozi and I had settled for the quick and easy Ikea solution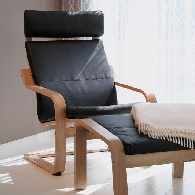 Cheap, mostly comfy and easily obtainable.  However  not a "hanging out reading for hours" sort of chair.  We've been looking on Craigs list, at used furniture stores etc for the right chair for each of us.  A few weeks ago, gozi found a leather wingback recliner at a consignment shop.  Nice looking, leather and a good price.  Only down side: babyshitbrown.  He is very happy with it.
Today I brokedown and spent more than I wanted to (I am VERY cheap since returning to the States!) and got the chair that I (not-so-secretly) knew I wanted.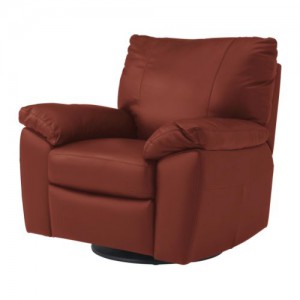 Mine is dark, espresso brown and really comfy.
Gotta go now, already falling asleep in my awesome, leather chair.
I'm so grown up now!  HEEHEE