One of the things that I commented on LONGLONGLONG ago in the blog was that, in Cairo, and in association with the University, we had incredible opportunities to see music and lectures and theatre.
Life has been so crazy since coming home.  This seems counter-intuitive.  We CAME HOME.  It should be easy and familiar.  And yet many of the cultural and social interactions – beyond Happy Hour or Third Tuesday – have been elusive since coming back.  I don't know if they were any easier in Cairo, but we certainly partook of them FAR more frequently than in Seattle.
In the fall, we "missed" an opportunity to go to a fancy multi-course, Tom Douglas food event with beer pairing.  We just never got around to getting the tickets.  And then it was too late.  We justified our frustration and disappointment by saying that the tickets were TOO expensivo.  Then, after the fact, we consoled ourselves because  we heard that it really wasn't that good.  Saved by the critiques of others!
Friends have recently been discussing the joy of going to see the Seattle Symphony.  It is relatively inexpensive, not that many people go, Benaroya Hall is beautiful, and the symphony is actually pretty good!  All of this sounds really promising, but……………..it still doesn't happen.
Somehow the planning becomes too onerous, the tickets too expensive, our time too short.
Well, recently we decided, "What the hell…" and got tickets to a Seattle Arts and Lectures event.  A community dinner on Monday and a lecture on Tuesday.  The dinner was catered by, none other than, Tom Douglas at the Palace Ballroom in downtown Seattle.  The event and lecture were by Jane and Michael Stern – of "Road Food" fame.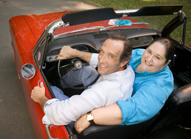 The dinner was… yup… road-type food.  Chicken fried steak finger sandwiches on buttermilk biscuits with onion gravy, deep fried pickles, pickled okra and a BBQ'd pig with 3 kinds of sauce.  There were not all that many people at the dinner – it was kinda pricey – but we REALLY enjoyed it.  AND, with all our recent whinging about being tired of being viewed as "fascinating", we were in a social situation where we knew NOBODY and pretty much everyone had a story to tell.  It was fun to be anonymous for a while.
The lecture was an ex-temporaneous, hilarious, rambling discussion by Jane and Michael Stern about their food travels throughout the United States.  They covered myriad subjects, decades, vehicles and misinterpretations ("Jewish tea").  We laughed until we hurt.
The odd thing, for me, was the familiarity of many of the situations, stories and faux pas' that they described.  In the last 3 years, we have had many of the same – only in another country.  It gives me pause, and makes me think that, perhaps, our stories are worth telling – but alas, we've no writer between us.  The blog will have to do.
This event has spurred me to start looking at other lectures, events and generally fun things that are NOT our daily (or worse yet, work related) lives.  We don't need to move half way around the globe to find great culture, we just need to open our eyes.