We took the night train from Cairo to Luxor. I don't really recommend the night train. It is more comfortable than the night train we once took from Barcelona to Madrid, but it is noisy and a little bit of a rough ride. We did not get a great nights sleep.
But the one big bonus of taking that train, at that time of year, with the unexpected one hour delay, is that we arrived in Luxor just after sunrise.
Which allowed me to get this photo: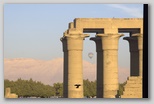 That alone made the train trip worthwhile.
A small collection of photos from Luxor Temple is available here.